This morning I woke up as early as 650am. I wanted to have a breakfast buffet at Mega Hotel Chatterbox Coffeehouse. Aya accompanied me.
The food are either Asian or Western breakfast. Asian means there were fried noodles, Tom Yam Bee Hoon, Porridge, Fried Rice, Squid Balls, Curried Beef etc., and Western food means there were French Toast, Half boiled eggs, Toasted Bread with jam and butter and plenty of different varieties of cakes & puffs.
Mega Hotel is centrally located in the business, entertainment and shopping hubs of Miri City. It is only 15 minutes drive from Miri Airport and about the same time from where I stay. Chatterbox
coffeehouse is one of it's food outlets, that was where I was this morning.
This is the Chatterbox Coffeehouse
These were some of the food that I ate.
This plate was filled with 3 items, on my left was some squid balls with Thai chilli sauce, at the top was curried potatoes especially for vegetarians and below it was the fried noodles.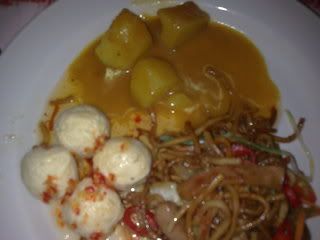 I like the squid balls especially, and the curried potatoes as well. But the fried noodles wasn't very good because they aint salty enough and the noodles weren't springy. I guess they've been soaked too long before being fried.
Next, here was the Tom Yam Bee Hoon. Not as hot as the name 'Tom Yam' and not salty enough. But it was 'just okay' though. It also have some squids in it.
I didn't take the pictures of all the food because the rest were just bits here and there I picked from the food stalls. I drank lots of hot nescafe and mango juice. And ate toasted bread with strawberry jam and butter. Half boiled eggs as well :)
I ate too much by the time I drove home I was feeling a little tired and sleepy. Greedy me lol...
It was a good experience just eating and eating and I did not have to clean the dishes afterwards.
I even felt lazy to cook anything for dinner later, so I 'tapau' some 'lauk' from a friend's eatery shop before going home.
All I want to do was lie on my bed see tv or do some blogging the whole day later. And that was exactly what I did.
BTW,I have changed my blog layouts earlier on. They were created by Lisa from 'Scrap Your Blog' and I would like to thank her for sharing it with me. Thanks again :)
To everyone,
Cheerio.