Today it rained, on and off so the clothes were never really dry. I stayed home today with Alif. He slept for 45 minutes this morning from 915am - 10am so I had time to cook 'Stingray Asam Pedas'.
In a little hot oil, I fried some pounded ingredients of small onion, 4 pieces of shallots, 1 inch garlic, 2 lemon grass and 3 chillies, adding a spoonful of turmeric in it.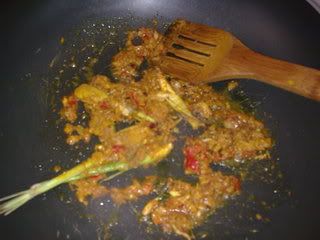 After leaving to simmer for 5 minutes I add some water to make enough soup, add some tamarind juice and add in the cutted up stingray into it. Add ajinomoto and salt to taste.
Stingray Asam Pedas
Cheerio.