I've just had my lunch, it's 2pm. I wasn't that hungry earlier on but was when I took my lunch. It was a quickie, one bowl of rice with scrambled eggs with tomato sauce and cabbage with tiny prawns which I cooked yesterday evening. Nowadays I eat little amounts but often. I can't seem to sit and have a big lunch anymore. It is old age I think he he... but I feel good eating only when I am hungry. A friend said it is isn't good to eat odd hours and I think he is definitely right. But so far, I am all right with it. Any of you eat like I do? I know, I know, most of you will agree with my friend here :p
This morning my youngest daughter Nono asked if I can have breakfast with her before she goes to work. So I drove with her and Alif (my grandson) to Kaya & Toast. This cafe opened a couple of months ago and served light breakfast and opens daily from 7am till 7pm.
This is how the place looks like, more or less...
I asked for curry mee but the girl said no stock of mee, it must be because of the Chinese New Year, the chinese shops mostly closed and noodlemaker are still off. I was pretty disappointed so I ordered toast & 2 halfboiled eggs with Coffee C. Coffee C is coffee with sweet condensed milk.
My half boiled egg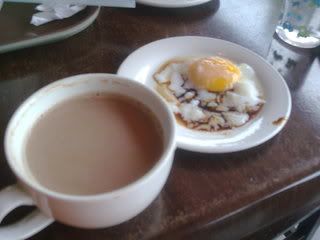 Nono ordered French Toast (I remember to take a pic of it after she finished it all!)
and drank this...
It's cold milo drink with lots and lots of milo powder put on top of it. They called this drink 'Iced Milo Dinasaur'.
Alif shared my half boiled eggs. There were plenty of people eating at this place in the morning. I guess it must be those workers from the offices around the area who came to take their morning break there too.
We went home at 910am.
Cheerio.