I spend CNY quietly this year. I am off from looking after Alif(my grandson) for 2 whole days, Monday and Tuesday. Of course, as usual on Sundays and half day on Saturdays. I wasn't sure if I am going to use the car later in the day so I decided like yesterday to send Aya (my 3rd daughter) to work this morning.
I didn't have breakfast at home so after sending her I stopped at a nearby cafe called 'Mahyan Cafe' to have my breakfast. I ordered a glass of hot Nescafe and decided to eat their 'Mee Jawa'. I like having this dish here because they put some 'satay' gravy into the Mee Jawa. That makes it taste nicer and more 'lemak', with the taste of grounded peanuts added to it.
Mee Jawa (RM4.00) Hot Nescafe (RM1.70)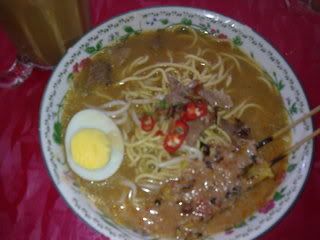 I stayed there for 25 minutes then I drove home. Zu(my eldest daughter) with her family who went out almost at the same time as me were already home. As promised, she was cleaning the 'ikan Lumek' that she bought and I began to prepare the soup to eat with it. After finishing with the soup I prepared to cook the cabbage with some prawns.
With all those ready, I turned my attention to 'Wiwi' my male cat and 'Baby' (Zu's persian cat). I cleaned their litter bins, add fresh litter sands and change fresh drinking water for both of them. I have let them out of their cages since this morning at 8am, so as usual I will let them back into their cages at about 12noon.
I went upstair to rest at 1230pm.
And here I am blogging.
Cheerio.