I made
'Umai Ikan Yu'
this afternoon. This is some sort of fish salad, a
most popular dish
in Sarawak. I just love it!
This is how it looked after I made it, ready to eat!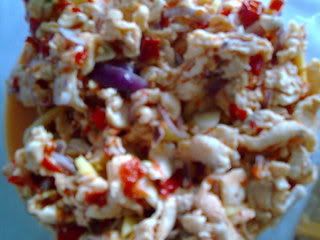 I am not a good cook, I cook according to my taste. I didn't learn much when I was a kid,I just learned by watching my mom cook and later learned tips on cooking from my aunties. Even now a grandmama I am still learning, from mistakes or recipe books lol...
Ikan Yu
is shark fish. I used the flesh, just 2 pieces which was already sliced by the fish monger. All I did was clean them and sliced them thinly and an inch long. Wash them clean and let them drip dry.
To prepare
-
Slice thinly a
2" ginger, 5 pieces of red onions, 5 red chillies
or more if you want. Mix well with the fish.
Pound 3 or 4 more
red chillies
finely and add into it to make the color more reddish.
Slice into halves lots and lots of
'limau kasturi'
(local small orange) and press the juices out into the fish.
That would make the taste more sourish. Add salt to taste.
Some people eat this with 'sago' but I don't. I eat this with rice.
Now I need to get Wiwi out of his cage and later will put him back again at about 9pm, just in time to see my favourite movie 'Midsomer Murders' on channel 702.
Cheerio.