Yesterday was a longgg...day for me! I went out the whole afternoon and came back in the evening.
I went to 'Dewie Saloon' At Bintang Plaza to trim and dye my hair. I can see the white hairs everywhere and I'd like to cover it up and have a new look. And a new look I did have! My hair dyed with 'Deep Bronze Copper' color it looks sort of more reddish in the room light after the lady wash and blow it.
I'll let you take a peep.
There! lol...
I like it, it was worth the long wait at the saloon as there were a few ahead of me. By the time I was out of there it was already almost 6pm and I was hungry.
I went to the nearest cafe 'Mahyan Cafe' to eat something. I went there for 2 reasons, one it is quite cheap, not plenty of people at that time and two because the 'mee jawa' there suits my taste. They put some 'satay gravy' and 2 sticks of 'satay' in it too.
Have a look!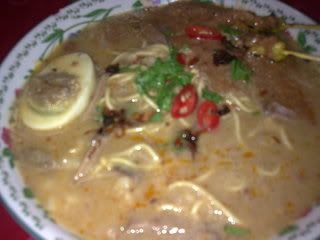 And I drank Nescafe 'Tarik'. That means after making the hot nescafe drink, the lady who prepares will pour the drink from one container to another then back again to the same container so as to get the foam at the top of that glass later. It tastes good too :)
Okay, after feeling full I drove to the Imperial Mall, there was a pharmacy shop nearby it that I wanted to go but it was closed. So I went to the Mall to get some medications from another pharmacy shop there. Then lastly I went to the basement to buy some groceries before heading home at 7pm.
I was feeling very tired, so did not come online last night.
But right now, I am feeling fresh once more and feeling excited because right now I am about to check in at Marriot & Spa hotel to stay there for a night. This on courtesy of Nono for my wedding anniversary for tomorrow the 2 February. She is working there so has some discounts due whenever she stays or eats there.
So I am going to the hotel at 2pm. I am so excited to be able to relax and have time of my own.
I'll let you know more and how things goes in my next post.
Till then,
Cheerio.