I had to crash early because the next morning we are having breakfast at Parkcity Everly Hotel. This was on Zu whose child Alif celebrating his 1 year old birthday on the 4th May. Imagine, Alif my grandson is now 1 year old! Time really runs fast.
Below I'll post some of Alif's pictures sitting on the baby's chair. He is still sleepy by the looks of it ha ha...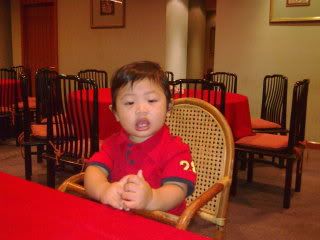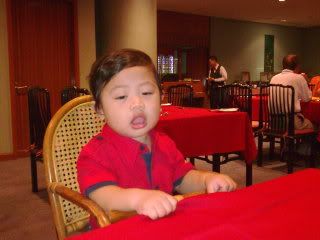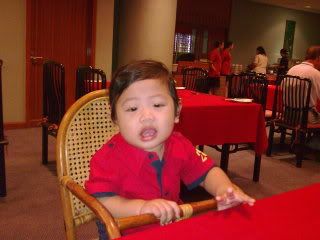 We went early to the hotel, by 8am we were seated. In the beginning there weren't too many people but as time went by more and more people started to come in. I guessed most of there were guests who were staying at the hotel.
This was a buffet breakfast, so eating was allowed from 6.30am until 10am.
The men weren't able to make it, hubby was working and need to drive outstation, Johnny, Alif's father was offshore and Farouk my son was working. So it was mainly a girls' birthday celebration except for the birthday boy :)
So there's myself, Zu, Alif's mom, who is my eldest daughter, then Aya, my third daughter and Noormy my youngest daughter. Four of us plus Alif.
I think when you eat buffet breakfast you tend to pick the food. That's what I did. I picked and put little quantity of food which I wanted to eat on a plate, went to my seat, ate them then rest for a little while or chatted then got up again to get another plate to pick some more food. I think I helped myself to 3 to 4 helpings and then already I was so very full. Once full I felt very sleepy loll...
I am not so crazy about 'fried kuey teow', that's on the left but brocolli yes, I am, delicious plus the mushroom.
I was looking for 'fried rice' but instead had 'nasi lemak' with some 'chicken rendang' with a second helping of brocolli and mushroom.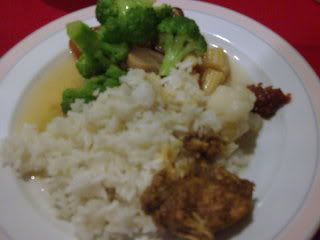 I also love these imported black 'duck eggs' very yummy if you eat with sliced ginger and tomato sauce, but was unavailable so I had them with 'bubor nasi'
Finally the 'fried rice' came but wasn't as tasty. I also took some bread with butter and marmalade jam and tried the cocktail cheese sausage. I finished with the watermelon and pineapple.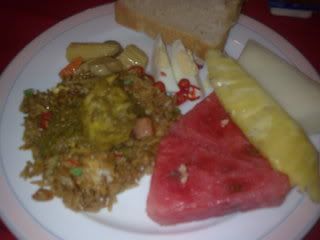 Thanks Zu for a nice get together breakfast and happy birthday to Alif :)
Cheerio.