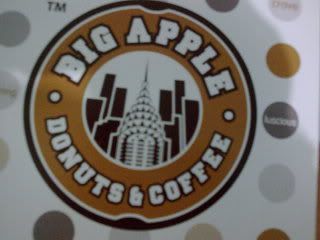 Today is a holiday in Malaysia, to mark 'Labour Day'. The theme for this year's Labour Day is 'Kerana Mu Malaysia Maju'.
And it is a holiday for everybody, adults and schoolchildren. For me too :)
I will always remember Labour day from now on. Why? because this is the first time in my life I queued up to get a free gift from 'Big apple donuts & Coffee' ha ha...
Well the story goes like this...
I saw an advertisement in our local newspaper The Borneo Bulletin by 'Big Apple Donuts & Coffee' that they are opening today in my hometown, and the first 100 to be there this morning will get 1 box free!
Well, I've got nothing to do so I decided to try to do just that. I had to queue for one hour and a half with the crowd of people in order to at last reach the counter!
Views I took from where I was standing
The crowd seemed to get crowdier and I didn't seemed to budge from where I was standing for a long time!
The views as I reached the front counter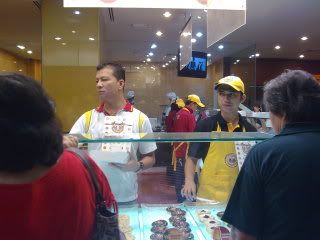 But it was worth it, I got what I wanted! Look!
I've yet to learn all the various names but some of these I know...
Top row : 'snowy' (it's plain doughnut topped with sugar), 'Cool Blue' (blueberry jam in the middle while the sides are dipped in a glaze), 'Hot Berry' ( filled with strawberry filling).
Bottom row : 'Duren-duren' (with durian filling), 'Choreo' (topped with powdered oreo cookies, 'Duren-duren' again.
And because I love these doughnuts so much, I even bought an extra box to carry home.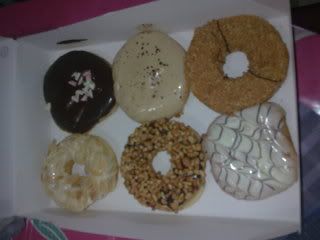 But not before I sat and eat some first, with some hot coffee! Imagine how hungry I was after the long wait in the queue.
This was today's special offer, I buy one hot coffee with a doughnut, they gave me an extra doughnut. Cool.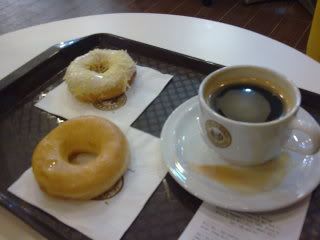 The view from where I sat. Some chairs for those who eats in.
I also counted that there are 21 types & names of doughnuts here this morning.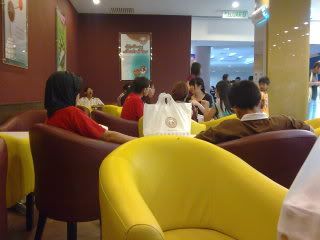 Here I was enjoying my breakfast while watching those later buying their shares.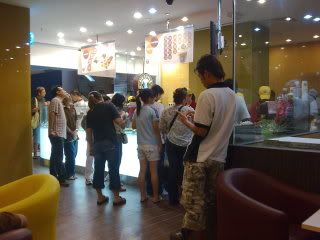 What a day, queueing!
Cheerio.