On Labour day I talked about 'Big Apple donuts & Coffee' being first opened in my hometown. And where? It was at the Megamall Bintang Plaza of course. And next to it is the 'Secret Recipe' opening it's second branch. I went there a couple of days later. It was my very first time going to 'Secret Recipe', I didn't go to the first one which opened earlier at Pelita. So, I went to this one at Megamall Bintang Plaza.
This is 'Green Apple Kasturi'. Green Apple flavoured drink served with ripe lime and also not forgetting a salty plum in it. Very quenching.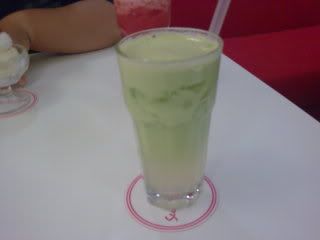 I love the bubble on top of it.
Watermelon juice & a one scoop icecream.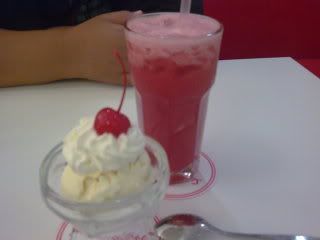 'Curry Seafood Laksa'. With big prawns and sliced fish cakes, bean sprouts, hard boiled eggs cut into halves and noodles with strong flavoured curry laksa soup as base.
'Fish & Chips'. Unfortunately I didn't like the way they cooked the fish, it is too hard and too salty. And the price is expensive which did not suit to the amount of the serving.
If I do come back to the place, I guess I will eat only the 'Curry Seafood Laksa' or try the 'Singapore Laksa' :)
Cheerio.