After all the heavy meat dishes I ate during the weekend, today I feel I want to eat some light soup. So I cooked this simple 'Tanghoon Potato Egg Soup' this morning. I cooked this dish often. I love potatoes myself. So I treat this as a family soup where all of us enjoy a hot bowl of it is tasty and nutritious.
What do you require :
a packet of 'tanghoon'
5 potatoes - peeled and cut into cubes
1 egg
half a carrot - cut and sliced thinly
2 small red onions + 2 garlic + half a chilli + tiny pinch of 'belacan' - pounded
Simple Process :
heat a little oil in a pot, stir fry the pounded ingredients
Add in some water according to how much you want
let it boil
put in the potato cubes & carrot
let boil and soften
add egg & tanghoon
add salt to taste and pinch of pepper
Soup is ready...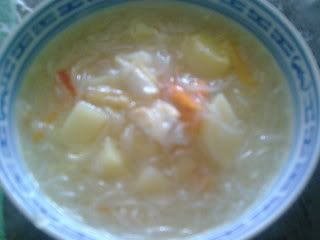 Cheerio.