Tiring day today for me.
I went for my pedicure & manicure around 130pm and was home by 330pm. Then I promised Zu & Alif we would go to 'Taman Selera' so Alif can watch the other children play at the children's playground. He loves watching people.
I took some pictures.
The children's playground at Taman Selera.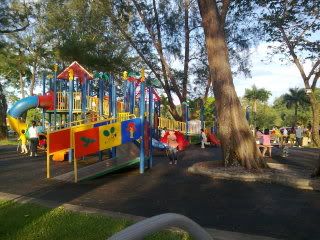 Alif with his mom, Zu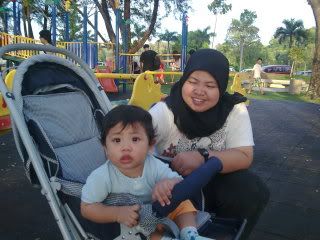 Alif busy watching other children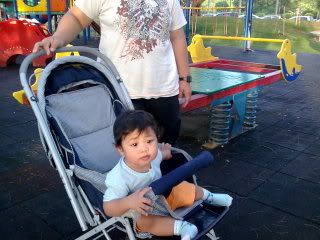 Now a little about the 'Taman Selera' I mentioned above.
Taman Selera is the oldest recreational park in Miri and it is situated in Brighton Beach at Tanjung Lobang, about 3 km from Miri city center.
There are a children's playground, outdoor facilities for stretching exercises, lots of benches for sitting, and a long stretch of golden sandy beach to enjoy.
There is also an open air hawker center which is a popular eating place amongst the locals with different sorts of local foods being sold and served. The prices are very reasonable, the food is excellent and the vendors are friendly. You can enjoy the beautiful sunset, cool sea breeze and sound of the waves as you wait for your food or while eating your food.
Anyway we didn't eat there today. Alif needed his short nap and only if I drive he will fall asleep and that's what I did. We left the place around 615pm and I drove around Miri town until he fell asleep in his car seat.
Then I stopped by at Jasmine Cafe so Zu & I had some fried noodles and drinks while he sleeps in the car nearby us.
We were home by 730pm.
Cheerio.