Today I had breakfast with my son Farouk. It's been quite sometime we had breakfast out together.
Farouk is my only son apart from the other 3 girls. He lives out, with a friend as he works in Miri town, about 8kilometres from my house. He sleeps in at my house once every fortnight but comes home for lunch each working day except Fridays to go to pray.
My appointment with him was at 10am. I was 20 minutes late, rushing through a quick shower and dressing up. I rushed because I was already out with Zu & Alif for breakfast at a 'kedai mamak' at 8am in Miri. I arrived home at 9am so that was why I had to rush. To go downtown it would take me a 20 minutes drive.
I took 'Roti Canai' with 'Curry Lamb' at the 'kedai mamak' earlier on so I wasn't hungry when I took Farouk for breakfast. So I watched Farouk ate his favourite 'Lazagna' and just sipped a cup of 'Iced Blended Chocolate' while chatting with him.
For me, eating at 'The Coffee Bean & Tea Leaf' is kinda expensive :p and will sit there once in a blue moon only. But it was Farouk's choice to be there and I know he just loves that 'Lazagna' of his he he... so I love to accompany him there.
I tasted a spoonful of his 'Lazagna' and true enough it is very nice. I definitely wouldn't be able to finish one plate like he does though. It is very filling to eat that for breakfast.
The 'Lazagna' (RM16.90)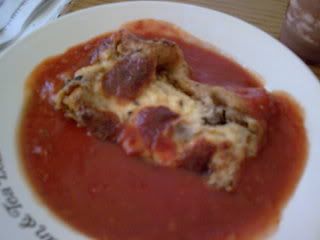 Now, the red sauce is rich tomato sauce, I don't know how they make it but it is very nice. And that looks like a piece of meat isn't it? No, it is pasta layered with some minced beef and cheese. Very nice indeed. No wonder Farouk said he loves it.
He drank 'Mocca' (didn't take a picture of it) which I think is blended very rich coffee with cream on top of it. It looks almost like my 'Iced Blended Chocolate' except they taste different of course. I do not drink coffee nowadays that was why I turned to chocolate.
My Iced Blended Chocolate (Rm10.90) with lots of cream on top.
I like the atmosphere where we sat, with light music and not too many people. Mother and son sat chatting for more than an hour which I find very relaxing. I enjoyed my time with my son.
View inside The Coffee Bean & Tea Leaf from where I sat.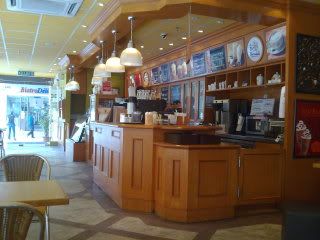 Cheerio.