This weekend has been hectic for me, too hectic that my briskwalk schedules were disrupted for Saturday and today. Another cause to it was the weather, it rained on and off, one time just drizzling and another time it was so windy and heavy rain then it suddenly stopped. That prevented me from going to the hill.
Anyway, so I spent that time to eat. I was longing to try the food at this cafe called 'Bavaria Cafe'. I have passed the shop few times but never gotten to stop and try it. I also thought it is non-halal, but I read at 'MakanManiacs' blog that it is 'halal' plus the pictures of the food they took and showed on their blog was really mouth watering that I just had to go and try it as soon as lol...
Thanks 'MakanManiacs' for publishing this nice cafe and it's nice people serving it.
So come Saturday (yesterday) I finally sat at a table there while it rained outside. I was really going to sit and enjoy my meal so I started off with some soup.
Mushroom soup (RM7.50)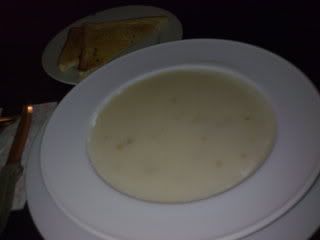 With it were these 2 slices of toasted bread
My main dish for the day was this delicious dish called 'Fruhlings Schnitzel', this was leg of lamb with some pineapple, baked potatoes,onions, carrots & cucumber(RM28.00)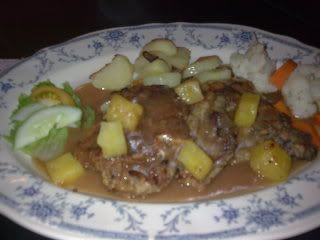 Come my drink, I ordered 'Fruit Punch' a delicious quenching fruity drink (RM6.50)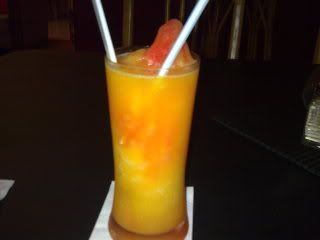 I had a very comfortable meal. I asked if I could take some pictures and took this view from where I sat. I complimented Roy the chef of his good hands on my main meal and told him he will be seeing more of me and my family members next time :)
View from where I sat in 'Bavaria Cafe'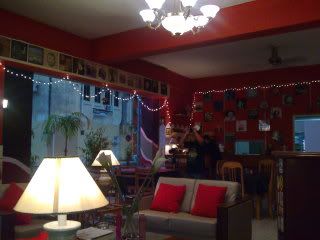 Now today I brought Zu & Alif for breakfast at 'Jasmine Cafe'. I ate 'Laksa Special' and drank a glass of 'Orange Juice'. I asked the cook to omit my chicken instead add more prawns or other ingredients in it.
Laksa Special at Jasmine Cafe (RM7.00)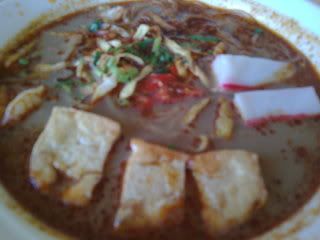 With it's 'Sambal Belacan'
Meanwhile Zu ate 'Chicken Rice' and drank a glass of warm nescafe. Zu likes the sauce in this dish but I didn't.
Chicken Rice at Jasmine Cafe (RM4.50)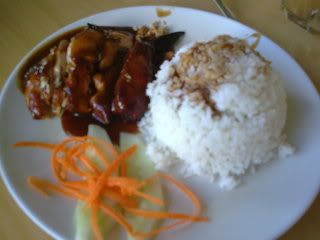 Cheerio.