I've just come back from shopping for khaki shorts. Earlier this evening I heard Lea Centre are on sales. I bought one khaki short there the last time it had sales, so I thought I can find another one which will be as comfortable as the Nike khaki short that I bought that last time.
As I chose one white one I was asking for a room to try and to my dismay the girl said that their trying rooms are full of their stock and nowhere to try. I said if I don't try how am I going to know whether it fits or not on me? And do you know what the girl said to me? 'Just agak-agak la' (agak-agak means guess without trying it). I said,' but you have put up that notice saying 'goods sold are unreturnable',so what if I have bought it and find it isn't so fitting?' ' I can't return it'. The girl can't give me an answer. Now that made me unhappy.
The notice that says 'goods sold are unreturnable...'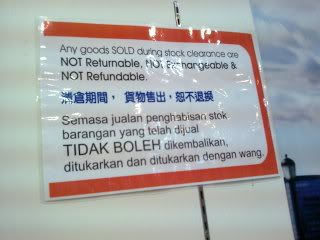 The rest of the people who were busy choosing what they want doesn't seem to mind very much that they can't try what they are buying. I was the only one making a lot of fuss it seemed.
The crowd of people at Lea Sports Centre
Nevertheless, I like this white Adidas khaki shorts that I bought it without trying.
Well I found out it really didn't fit me on the stomach line when I tried it on at home later. It barely fit, will fit if I don't eat for a day. It was really a shame. And to think I bought it for RM54.50 (half price).
That was at the Boulevard Complex. Later I went to the Imperial Mall Lea Sports Centre also on sales and bought this Dunlop khaki short (RM27.90).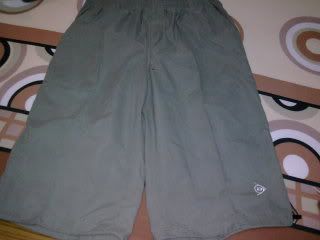 And bought this Nike khaki short at another Nike Shop for Rm82.90 (no sales)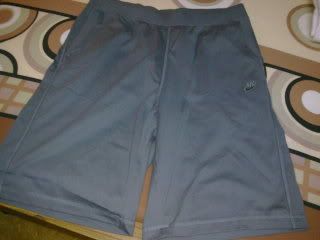 Both these 2 khaki shorts fit me perfectly and comfortably.
I really should never have bought that white Nike khaki short in the first place.
Cheerio.