I went for my briskwalk this morning. I felt a little tired, I dont know why. I was hoping by starting early at 6.15am I would finish 3 laps around 7.15am or so, but I could only manage 2 laps and finished at 7am. I hope I can do better on Friday or should I do 2 laps everyday? Hmm... I'll see how it goes.
My time on Monday and today...
30/3 Mon Time 1hr 05.39.12 (3laps) B/walk
01/4 Wed 48'05.82 B/walk (2laps)
Now on an entirely different topic, but with the same title of this post 'today' lol..
That is, today one can buy so many kinds of baby pampers, many brands as well as many creative designs being manufactured. Like this one in this picture here, I couldn't help taking a pic of it while Alif, my grandson was wearing it the other day. To me, it was so cute.
Alif with this cute bunny pampers design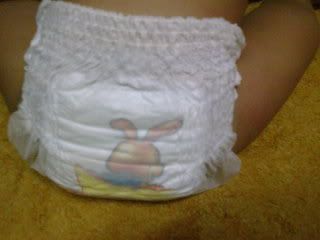 My other 2 daughters were laughing at me when they saw me taking a picture of this. To them it was such a common thing, but to me, it is something new because when they (my children)20or 30 years ago were small one couldn't find lots of varieties of baby pampers in the shops then. There were only one or two brands. And I didn't use a lot of baby pampers on them, I used baby napkins! You know, the ones that you wash and then folded.
Hah...When I think of those old days, it was hard labour to wash, soak and rinse their napkins he he...
Lucky Alif! :)
Till then,
Cheerio.