This is continued from my last post.
Both of us (Noormy & me) were lying in our hotel room seeing tv when suddenly I suggested we go drive down to town to eat our favourite 'Char Lamb Chop' at the 'Siamese Secret Restaurant'.
And we did.
Char Lamb Chop (RM18.00)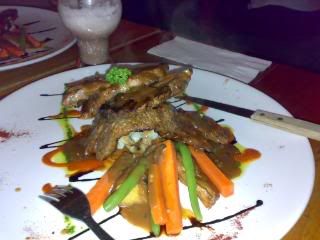 I drank 'Chocolate Milk Shake'(RM8.00)
That night both of us slept well. Too well until I felt quite lazy getting up for the buffet breakfast at the hotel. But I had promised Aya that she could join us for breakfast early. So I got up at 7am to shower and dressed up leaving Noormy still in bed. She said she would join us shortly .
So breakfast was at the Zest Restaurant. When Aya and I first came in at 745am there were few people but by 930am the other in guests started to come in. As it was a buffet breakfast the 3 of us decided to stay long and eat our food slowly as we chatted. I took my food in small quantities of different varieties of the arrayed food because I like trying the food.
I tried...
'All Bran' plus 'Muesli' plus 'Prune' with some milk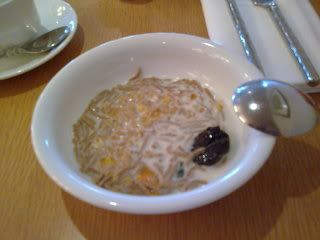 A little of 'Fried Beehoon', 'Fried Rice', 'Sambal Ikan Bilis', 'Beef Mushroom Quiche', half of a boiled egg & salted duck egg with some cucumber.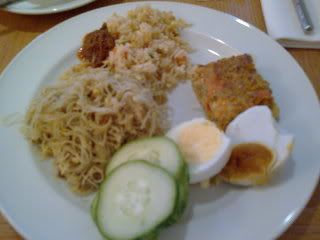 'Egg Omellete' stuffed with onions, mushroom,green peppers & cheese
Can you see the cheese? I just love cheese!
I tried their 'Sarawak Laksa', but it didn't taste as good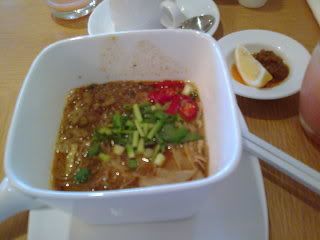 then, the 'Pancake' with blueberry sauce, raisins & one piece of 'Kuih Melaka'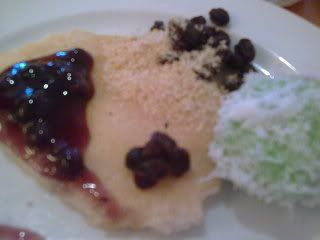 Last, I took some more 'Fried Rice' with some hot 'Curry Beef' & some 'Pickles'
I drank 'Guava Juice' the whole morning.
When we left the restaurant at 1030am I was so full I can hardly wait to reach my room to rest. So the next few hours I spent lazing in bed in between seeing tv and falling asleep on and off.
I checked out of the hotel at 2pm on Sunday.
Cheerio.