My cough didn't get better. Only my flu. But still, I went out this afternoon. I got to get my hair trim because my hair at this length feels uncomfortable, you know, as if something keeps poking into my neck.
Now my hair is really really short but the important thing is I feel comfortable. I looked very tomboy ha ha ha...but like I said looks come second for me, comfortable is first and foremost with whatever it is with me, be it my hair or the way I dressed.
I wanted to have my foot reflexology massage after that but when I went to the Imperial Mall, the place was in darkness. I think their electricity was off for a while ( I didn't know due to what) and seemed to be off for quite a long time yet. I could see too some of the small shops were closing down.
So I drove to the Boulevard Complex which was quite far a little about 5 kilometres from the town area. Once there I went to the Supermarket to look for 'Joy Orange Juices'. I only drink orange juice from this brand as I find others not as good and tasty as these. I used to buy it at the Servay Supermarket near my house but seemed for now it is out of stock there. And the next place it is available is at this Boulevard Complex. I bought 4 boxes to last me for a couple of days.
1Litre of 'Joy Orange Juice' (RM3.40)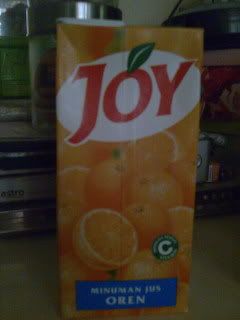 By that time it was already about 6pm and I was feeling hungry. I stopped at 'Sugar Bun' to eat Value Meal of 'Eco Fish'. I love eating this fish. An today I wanted to eat one.
'Eco Fish'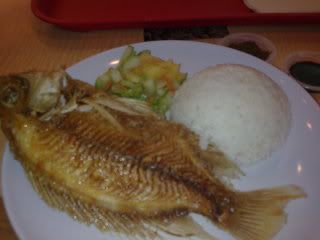 The 'Sugar Bun' at Boulevard Complex
I arrived home at 7pm.
Cheerio.