Roti Canai
Alif's dad took him off my hands for a couple of hours this morning. So when Noormy woke up around 9am and said she was awfully hungry and wanted to breakfast outside, I immediately said yes. So we both sent Aya to work and then breakfast at 'Restoran Al-Asna'.
I ate 'Roti Canai' & Noormy ate ' Roti Telor'. We both drank 'Teh C special'. I drank it hot and Noormy drank it cold with ice cubes.
Restoran Al-Asna.
This shop is just next to the Imperial Mall.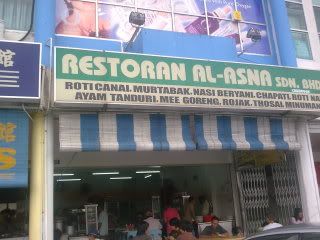 As usual we both ate our 'Roti Canai' with our favourite dish, 'Kari Kambing'.
We like coming here because they give a generous amount of the curry in our plates each time. And you can ask for more curry soup for free later too.
Kari Kambing.
I was so thirsty I drank 2 of this big glass of 'Teh C Special'
'Teh C' means it is tea with milk. Now when you say 'special' they will add some pandan flavoured paste at the bottom of the glass, so there will be some pandan aroma when you drink it. It is nice but I prefer it hot. And I am beginning to like this drink.
Have you ever drink it? Try, it is quite nice actually and you can try it cold too.
BTW we arrived home around 1030am, Alif and his dad were at home already.
Cheerio.